LIVE ENTERTAINMENT
Nsangwini in the northern Hhohho region in the area of Chief Molwane Dlamini, paintings are damaged and fading.
Sandlane paintings still in reasonably good condition can be seen at Sandlane, about 1km from the Sandlane border post.
Dlangeni next to Shiyabedla Gama's home there are other paintings that have at least two eland that are clear but the other animals have faded.
Maguga dam area one of the paintings that would have been covered by the dam will be saved.
Other rock painting site have been identified in the Ezulwini Valley near Sheba's Breasts at Kuthandeni, at Nkaba near the Luyane Stream on the banks of Mpetsane stream near the Ngwempisane river at Ntfungula Mountain and in the environs of Gege.
BIRD WATCHING:
MOUNTAIN/QUAD BIKING:
Swazi trails Ezulwini
Come and enjoy a 4-5 hour adventure caving and explore the the opportunity to spend 2 hours underground in a true speleological manner.

The safety of our visitors is guaranteed as competent adventure guides are responsible for the trips. Previous experience is not a necessity.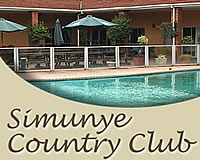 Simunye Country Club
e-mail: dlitschika@rssc.co.sz
Mbabane Golf Club
e-mail:
Nhlangano Golf Club
chungu@realnet.co.sz
Usuthu Golf Club
ufgc@sappi.com
Royal Swazi Spa Resort and Country Club
swazisun@sunint.co.za
Royal Swazi Sun Golf Course
MTN Golf Park Big Bend Golf Club
Bulembu Golf Club
Manzini Golf Club
CRAFT AND ART GALLERIESBack to top
Tintsaba Crafts e-mail: admin@tintsaba.com
Rosecraft e-mail: rosecraft@realnet.co.sz
African Fantasy e-mail: i.bock@realnet.co.sz
African Connection
Ngwenya African Queen
Lugogo Sun Guava Gallery
Mantenga Indingilizi Craft
Mbabane Hlane Royal National Park
Swaziland offers some of the best horse riding trails in Southern Africa

Chubeka Trails
Visitors can explore remote mountains, swim in cool rivers and even speak with traditional village elders.
Ezulwini Sun Hotel
The hotel offers a variety of Swaziland horse riding Activities which include 30-minute and 2-hour rides
Foresters Arms Hotel
Keeps its own horses and visitors are able to ride in small groups with a guide who will lead them through the countryside. If you are an experienced rider and would prefer to ride for an extended period of time, longer rides can be arranged on request.
Nyanza Stables
Riders can choose between 30-minute and 2-hour pony rides as well as 1 or 2-hour rides around the Malkerns Valley. Birders and nature enthusiasts should opt for the sundowner ride around the valley to the mountains where numerous species of birdlife can be spotted.